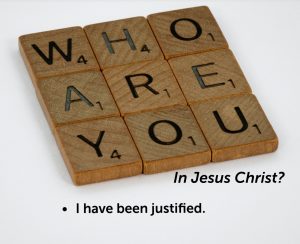 I have been justified.
Romans 5:1 Therefore, since we have been justified by faith, we have peace with God through our Lord Jesus Christ.
To be justified is to be declared "just", or righteous before God. We know that we "all have sinned" (Romans 3:23) and have broken God's laws on numerous occasions. So how could God declare anyone "just" or "righteous?"
Romans 3:21–25 says, "But now the righteousness of God has been manifested apart from the law, although the Law and the Prophets bear witness to it— the righteousness of God through faith in Jesus Christ for all who believe. For there is no distinction: for all have sinned and fall short of the glory of God, and are justified by his grace as a gift, through the redemption that is in Christ Jesus, whom God put forward as a propitiation by his blood, to be received by faith.
Jesus was "put forward as a propitiation." That means He took the full judgement and penalty for sin. When Jesus said "it is finished," the Greek word He used was the same as they would write on a receipt. It means "paid in full." When you and I receive Christ - that is - when we realize that we fall short and cannot save ourselves no matter how good we try to be; when we understand and acknowledge His sacrifice on our behalf and trust Him alone by faith for our salvation, the Bible says we receive "the righteousness of God" - perfect righteousness - AS A GIFT.
We can understand it this way. Jesus was the ONLY sinless one. When He went to the cross, He took OUR sins into His account, and put HIS righteousness into the account of all who will believe it and receive it.
This has incredible implications. It means that our righteous standing before God - and therefore favorable status in His eyes - is not determined by our actions, but by our faith in Jesus Christ. As it says above, it is "the righteousness of God through faith." As one author put it, "There is only one way to be righteous before God."
Does that mean we are now free to just do whatever we want without consequence? Of course not. How could we receive a gift like that and then turn around and dishonor such a great and gracious God by turning away from everything He stands for? It just doesn't make sense. Not to mention that God certainly loves us enough to discipline us when needed - although His love for us NEVER changes.
However, if we have truly believed, the Bible says we receive a new heart and a new Spirit (Ezekiel 36:26). The Holy Spirit comes to live in us to prompt, guide and empower us to walk in His ways; ways that we have come to understand really are best any way you look at it.
So let us walk in the joyous freedom of our justification. No longer under the burden to perform in order to earn God's love and favor. Let us draw near to our gracious Father without condemnation, and let His love and truth and wisdom transform our lives!