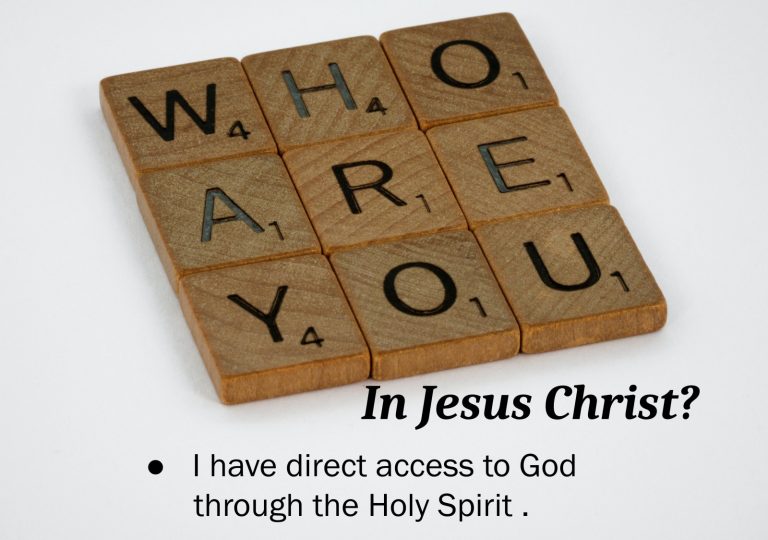 I Have Direct Access to God Through the Holy Spirit
When we look at the activity of the Holy Spirit in the Old Testament, we find passages like this:
"And the Spirit of the LORD rushed upon him, and he went down to Ashkelon and struck down thirty men." Judges 14:19 (ESV)
"When they came to Gibeah, behold, a group of prophets met him, and the Spirit of God rushed upon [Saul], and he prophesied among them." 1 Samuel 10:10 (ESV)
We find then that the Holy Spirit would come UPON people for a specific time, in order to empower them to accomplish specific things.
In the New Covenant, that changes. Jesus, before His death and resurrection spoke to His disciples about that difference. He said the Father would send them a Helper – "even the Spirit of truth, whom the world cannot receive, because it neither sees him nor knows him. You know him, for he dwells with you and will be in you."  John 14:17 (ESV)
Now, instead of being with them or coming upon them, the Hold Spirit would live in them.
Who is this Holy Spirit? Though we will never be able in this life to completely understand the God who is triune – Father, Son, and Holy Spirit, we can say that within us dwells the very presence of God. What does that mean?
It means for the believe that God is not far off somewhere in heaven, too busy to concern Himself with some of our petty problems. It means that we do not have to "summon" His presence by some special prayer or ritual. It means that we live in His direct presence.
I knew a couple years ago who used to wear bluetooth headsets during the day and stay on the phone with each other pretty much all day long. That might be a little much for some of us, but it seemed to work for them at the time. The fact is, you and I don't "call God" when we pray and "hang up" when we say amen. He is always with us because He lives in us.
That doesn't mean that He is "watching us;" ready to pounce on us if we sin. Rather He is there to guide and empower us to say and do what brings blessing to us and others.  Philippians 2:13 (ESV) says, "For it is God who works in you, both to will and to work for his good pleasure." What is His pleasure? Like any parent, His pleasure is seeing His kids happy, healthy, and blessed.
When we DO blow it, we can quickly confess and find forgiveness – and wisdom for the future. When we have a need – no matter how large or small – we have only – because of His indwelling Spirit – to talk to our very present God, who will answer as He sees best, and provide us with comfort, strength, peace or whatever is needed, along with the assurance of His love for us as His children.
Sometimes we take a special period of time set aside for prayer. Sometimes it may be a gentle whisper under our breath in a crowded room. But always He is there. Closer than our very breath.