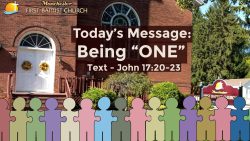 April 4, 2022
John 17:11 (ESV) — 11 And I am no longer in the world, but they are in the world, and I am coming to you. Holy Father, keep them in your name, which you have given me, that they may be one, even as we are one.
John 17:20–23 (ESV) — 20 "I do not ask for these only, but also for those who will believe in me through their word, 21 that they may all be one, just as you, Father, are in me, and I in you, that they also may be in us, so that the world may believe that you have sent me. 22 The glory that you have given me I have given to them, that they may be one even as we are one, 23 I in them and you in me, that they may become perfectly one, so that the world may know that you sent me and loved them even as you loved me.
Acts 2:42–44 (ESV) — 42 And they devoted themselves to the apostles' teaching and the fellowship, to the breaking of bread and the prayers. 43 And awe came upon every soul, and many wonders and signs were being done through the apostles. 44 And all who believed were together and had all things in common.
Acts 2:47 (ESV) – 47 And the Lord added to their number day by day those who were being saved.
In His prayer for His present and future disciples in John 17, Jesus prays that they will be "one." Is that just that the church will be unified, or does it encompass a whole lot more?