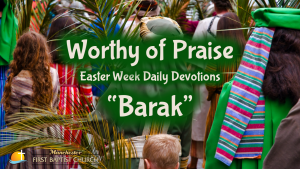 Welcome to Easter Week Devotions!
Daily devotions to help get us ready for Resurrection Sunday. Our focus, from Palm Sunday, is the fact that our great God and Savior is worthy of our praise!
Today's praise focus is the Hebrew word "barak" meaning to kneel as before a king in reverence and submission.
We can certainly pray in any position and at any time of the day. There are certain positions however, that are helpful to us as we enter in to worship. Kneeling before the Lord, for example, is a physical act of humbling ourselves before Him. It is an action that allows us to more fully grasp a sense of humility and reverence for God and and express that to Him.
For some of us, kneeling on the floor may be physically difficult. In that cast you may want to try kneeling against the back of a couch, or,  if it's just physically not going to happen, certainly God understands. In that case, simply sit comfortably and bow your head.
In either case, focus on the Lord as King; as the one who is Lord over all. Over this world and all of its kingdoms and all of its happenings. Address Him as such, praising Him and thanking Him that in all the craziness He has a plan and a purpose, and is ultimately working all things according to His own will.
Then proclaim Him YOUR king, YOUR Lord, the one who holds your life and future in His hands - a hold that no person or circumstance is able to break. And as your gracious, loving and all wise Lord, pledge your allegiance to Him; His leading, His direction, His instructions given in His word.
Own Him as your personal Lord in worship today. Offer Him your heart and all that goes with it. Then listen for His voice as He would speak His love, encouragement and guidance to your heart.