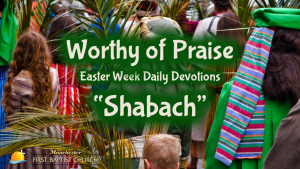 Welcome to Easter Week Devotions!
Daily devotions to help get us ready for Resurrection Sunday. Our focus, from Palm Sunday, is the fact that our great God and Savior is worthy of our praise! Today's praise focus is the Hebrew word "shabach".
Psalm 47:1 (NKJV) says, "Oh, clap your hands, all you peoples! Shout to God with the voice of triumph!"
That shout unto the Lord is what shabach is all about. Many of us may be unfamiliar with this practice in a "spiritual" sense but most all of us have done so at sporting events, or after receiving some great news. We can easily therefore see what it's about. It's a loud excited triumphant response to something great happening for us, our loved one, our team, our side, etc. that usually involves overcoming an obstacle or difficulty.
So…is it OK to shout at a touchdown? Sure
At a job promotion? Absolutely!
Getting an "A" grade on a paper? Oh yeah.
When your child takes first place? Can't keep quiet!
What about Christ's triumph over sin, hell and death? Glory!
And realizing that His triumph is also yours? Praise God!
Answered prayer? Thank You Lord!!
Just a sudden aha moment that God is good, or that He is totally awesome and mighty and sovereign over everything? Hallelujah!!
I purposely answered the last four with expressions that people have used to "shabach" about those very same things. These expressions are biblical - not weird or fanatical – as long as it is sincere, and in a setting conducive to shouting. Because shabach is in the Bible it is certainly acceptable and welcomed by God. As we've noted with other expressions of praise, it also has an effect on us.
Think about that ball game and letting out a shout when your team scores. What does that do in you? It increases your joy. It gives you a more positive attitude. It strengthens your "faith" in your team's ability to win.
These same things happen to us when we shabach; when we lift up a shout to our awesome God for who He is or what He has done.
No . . . it's not about us, it's ALL about Him. But having Him on our side, and being the recipients of His grace, we enter into that victory with Him and share in His triumph as we praise Him.
If you're not used to shabach, you may want to try it in the car or during your prayer time when you're alone in the house. Keep in mind it's a response to Him. Don't force it. But if you get really excited about Him or something He's done…don't squelch it either. Go ahead . . . lift up that shout!