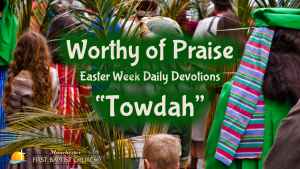 Welcome to Easter Week Devotions!
Daily devotions to help get us ready for Resurrection Sunday. Our focus, from Palm Sunday, is the fact that our great God and Savior is worthy of our praise! Today's praise focus is the Hebrew word "towdah".
Psalm 51:17 - The sacrifices of God are a broken spirit; a broken and contrite heart, O God, you will not despise.
It's when we "towdah" the Lord, that we really acknowledge Him as Lord. The word Lord is not simply another word for God. It means Master. It means He is the one in charge.
This is a hard concept sometimes, even for believers. God's will and our will aren't always in sync. But here is where the rubber hits the road. Who's will is supreme? And if it's His, then ours must be relinquished. Our must be sacrificed to Him who is our Lord.
If this is a struggle for you at times, be encouraged. Remember Jesus in the garden of Gethsemane. Even having known a long time what God's will was for Him; even "signing up" for this job before the foundations of the earth were laid; still the human sense of self-preservation and free will of Jesus struggled so intensely that the blood vessels in His forehead broke causing Him to sweat drops of blood.
But compare those two conflicting paths and the final outcome - both for the world and for Jesus. "Therefore God has highly exalted him and bestowed on him the name that is above every name, so that at the name of Jesus every knee should bow, in heaven and on earth and under the earth, and every tongue confess that Jesus Christ is Lord, to the glory of God the Father." (Philippians 2:9–11)
The point is that when we give in to the will of God, no matter what the perceived cost, not only is God glorified, but it ultimately works in our best interest as well. And if the sacrifice of Jesus teaches us anything, it is that God loves us immensely. The will He leads us to - His will - coming from His infinite knowledge and wisdom is absolutely the best decision we can make; given to us from the God who has only ever wanted to share His glory with us.
Yes, often it's hard. But our surrender - the sacrifice of our own plans - is totally worth it.